03-07-2020 | Issue 8/2020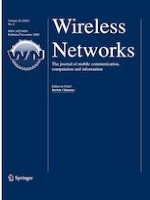 Implementation and parametric analysis of single and dual band planar filtering antennas for WLAN applications
Journal:
Authors:

Nithya Dorairajan, Chitra M. Perumal
Important notes
Publisher's Note
Springer Nature remains neutral with regard to jurisdictional claims in published maps and institutional affiliations.
Abstract
Implementation and parametric analysis of single and dual band planar filtering antennas suitable for WLAN applications are described in this paper. The single band filtering antenna is designed using the filter synthesis approach in which the last resonator of the 5th order Chebyshev stub loaded bandpass filter is replaced by a monopole antenna. The dual band filtering antenna is designed by adding Electromagnetic Band Gap structures in the ground plane of stub fed patch antenna. The parameters of the two filtering antennas are analyzed and provide validation of the merits and demerits of the two design techniques used in the implementation of filtering antennas. Single band filtering antenna is designed at a center frequency of 2.4 GHz and has a gain of 3.1 dBi with less than − 16 dB reflection coefficient. The filter selectivity at the band edges is found to be 75/86 dB/GHz. The size of the single band filtering antenna is 0.68 λ0 × 0.216 λ0 (λ0 is the operating wavelength) and the structure is suitable for WLAN applications. Dual band filtering antenna is designed to have two operating bands at center frequency 1.875 GHz and 2.4 GHz. The reflection coefficient at the two operating bands is found to be less than – 20 dB and produces radiation nulls on either side of the two operating bands. The proposed dual band filtering antenna has dimension 0.57 λ0 × 0.714 λ0 and is suitable for LTE and WLAN applications as it has a gain of 5.8 dBi and 4.08 dBi at 1.875 GHz and 2.4 GHz respectively.