21-05-2019 | Original Empirical Research | Issue 5/2019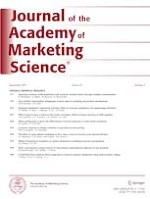 Improving customer profit predictions with customer mindset metrics through multiple overimputation
Authors:

Rajkumar Venkatesan, Alexander Bleier, Werner Reinartz, Nalini Ravishanker
Important notes
Electronic supplementary material
J. Andrew Petersen served as Area Editor for this article.
Publisher's note
Springer Nature remains neutral with regard to jurisdictional claims in published maps and institutional affiliations.
Abstract
Research and practice have called for the incorporation of customer mindset metrics (CMMs) to improve the accuracy of models that predict individual customer profits. However, as CMMs are self-reported data, collected through customer surveys, they are seldom available for a firm's entire customer database and in addition always measured with some degree of error. Their usage in models for individual-level predictions of customer profit has therefore proven challenging. We offer a solution through a new method called multiple overimputation (MO). MO treats missing data as an extreme form of measurement error and imputes the CMMs for both customers with observed, albeit with measurement error, as well as missing values, that are then included as predictors in a model of individual customer profits. Through a simulation study, empirical application in the pharmaceutical industry, and a customer selection exercise, we demonstrate the predictive and economic value of applying MO in the context of CRM.