13-09-2018 | Issue 3/2018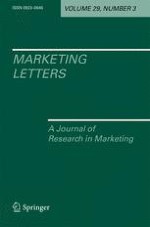 In God we hope, in ads we believe: the influence of religion on hope, perceived ad credibility, and purchase behavior
Journal:
Authors:

Samer Sarofim, Frank G. Cabano
Important notes
This paper is based on the first author's dissertation.
Abstract
This research proposes and demonstrates that religiosity positively affects consumers' hope for advertised benefits, leading to greater perceived advertisement credibility and, consequently, a greater likelihood of purchasing the advertised products. A multiple-step mediation analysis revealed that both hope for advertised benefits and perceived ad credibility play pivotal roles in explicating the effect of religiosity, whether measured (study 1) or manipulated (study 2), on purchase intentions of advertised products. The authors also investigated the interactive effect between religiosity and perceived product materialism on the observed effects (study 3). The effect of religiosity on hope for advertised benefits, perceived ad credibility, and purchase intentions was moderated by perceived product materialism, such that the positive effects of religiosity on hope, perceived ad credibility, and purchase intentions were observed only for non-materialistic (vs. materialistic) products. Theoretical and managerial implications are discussed.