Published in: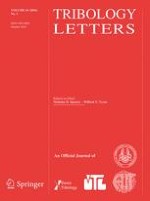 01-10-2016 | Original Paper
In Situ Lubrication of SU-8/Talc Composite with Base Oil (SN150) and Perfluoropolyether as Fillers
Published in: Tribology Letters | Issue 1/2016
Log in
Abstract
In this paper, pure SU-8 and SU-8/talc (30 wt%) composite were filled with two liquid lubricants, hydrocarbon base oil (SN150) and perfluoropolyether (PFPE) in different weight percentages (2, 10, 20 and 30 wt%). The composite coatings in the thickness range of ~150 µm were prepared on glass substrate using spin-coater. Pure SU-8 and its self-lubricated composites were examined using pin-on-disk tribometer, 3D optical profilometer, optical microscope, micro-hardness tester, thermogravimetric analyzer and goniometer. From tribological tests, it was observed that the coefficient of friction reduced by ~9–10 times after adding lubricant fillers and the wear life was >4 × 105 cycles for the SU-8/talc (30 wt%) with 30 wt% PFPE at 6 N normal load and 0.28 m/s sliding speed compared with zero life for without PFPE. The corresponding specific wear rate was 6.4 × 10−8 mm3/N-m. From surface characterization, it was observed that the surface changed from hydrophilic to hydrophobic in nature after adding PFPE, but SN150 oil-filled composite shows hydrophilic nature at higher wt%. The wear mechanism for SN150-filled composite was by delamination at high load and higher wt% of the liquid, whereas for PFPE-filled composite, it was of abrasive type. There were improvements in the elastic modulus, hardness and thermal decomposition temperature for SU-8 composites with liquid fillers over pure SU-8, and the benefit was more for composites that also contained 30 wt% of talc.