20-02-2019 | Issue 3/2019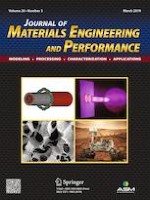 In Vitro Degradation, Antibacterial Activity and Cytotoxicity of Mg-3Zn-
x

Ag Nanocomposites Synthesized by Mechanical Alloying for Implant Applications
Authors:

Mahmood Razzaghi, Masoud Kasiri-Asgarani, Hamid Reza Bakhsheshi-Rad, Hamid Ghayour
Important notes
Publisher's Note
Springer Nature remains neutral with regard to jurisdictional claims in published maps and institutional affiliations.
Abstract
A class of biodegradable Mg-3Zn-
x
Ag nanocomposites was presented in the present study with the assessments for implant application. The evaluations included the effects of increasing the Ag content from 0.5 to 3 wt.% on the corrosion behavior, mechanical properties, antibacterial activity and cytotoxicity of Mg-3Zn-
x
Ag nanocomposite. Microstructural analysis revealed the secondary phase intermetallic Mg
54
Ag
17
along the grain boundaries, with grain refinement as a result of increasing the Ag concentration. 0.5 wt.% Ag results in increasing the compressive strength and elongation; however, further addition decreases the compressive strength. The nanocomposite samples were verified for the improved antimicrobial activity by utilizing both
E. coli
and
S. aureus
bacteria, the growth of which was suppressed around all Ag-containing nanocomposites, whereas bacterial proliferations were detected around the Mg-3Zn nanocomposite. The escalating levels of Ag in the nanocomposite resulted in the elevated antimicrobial effect. Cell adhesion and proliferation were not significantly influenced by the inclusion of 0.5-1 wt% Ag into Mg-3Zn nanocomposite; however, cell adhesion and proliferation were lower on the surfaces of the nanocomposite containing 2-3 wt.% Ag counterparts. According to the mechanical, corrosion and biological assessments in the current research, it can be concluded that the nanocomposite containing 0.5 wt.% Ag can be properly applied as an orthopedic implant biomaterial.