12-01-2018 | LCIA OF IMPACTS ON HUMAN HEALTH AND ECOSYSTEMS | Issue 11/2018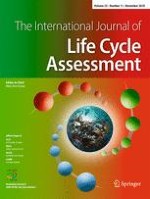 Including metal atmospheric fate and speciation in soils for terrestrial ecotoxicity in life cycle impact assessment
Authors:

Lycia Aziz, Louise Deschênes, Rifat-Ara Karim, Laure Patouillard, Cécile Bulle
Important notes
Responsible editor: Miguel Brandão
Electronic supplementary material
Abstract
Purpose
The aim of the study is to calculate regionalized characterization factors for the atmospheric emissions of metals transferred to soil for zinc, copper, and nickel taking into account the atmospheric fate and speciation.
Methods
In order to calculate characterization factors for all possible atmospheric emission locations around the world, the link between atmospheric deposition with regionalized soil fate factors and bioavailability factors accounting for the metal's speciation was established. The methodology to develop the regionalized fate factors and characterization factors is threefold. First, the emitted metal fraction that is deposited on soils is calculated from atmospheric source-receptor matrices providing for each emission location the fraction of an emission that is deposited on each worldwide receiving cell (2° × 2.5° resolution). Second, the fraction of metal deposited in different soil types is determined by overlapping the deposition map with a soil map, based on the 4513 different soil types from the Harmonized World Soil Database. Third, bioavailability factors are calculated for each soil type, which allows determining the bioavailable fraction of the deposited metal depending on the soil properties. Combining these steps with the effect factors results in a series of terrestrial ecotoxicological characterization factors. These characterization factors are then applied in an illustrative example and compared to results obtained with generic characterization factors. The case study focuses on the electricity production process in Québec, whose ecosystem impacts are currently dominated by metal ecotoxicity impacts. The uncertainty due to the spatial variability of the impact is quantified.
Results and discussion
Our results show that regionalized characterization factors are over three orders of magnitude lower than generic characterization factors. They are presented on maps and their spatial variability was evaluated at different regional scales (region, country, world). The use of regionalized characterization factors with their spatial variability at different geographic resolution scales in the case study gives a result more or less precise depending on the level of resolution of the characterization factor applied (country or global-default). The impact scores of the three metals in the case study are three orders of magnitude lower when compared to the scores obtained with generic characterization factors.
Conclusions
The development of those regionalized characterization factors improves the terrestrial ecotoxicity assessment in life cycle impact assessment by taking into account the atmospheric fate and the speciation of the metal for new 3 metals for the different soil types in the world and by documenting their spatial variability.