2021 | OriginalPaper | Chapter
Increasing the Energy Savings of Motor Applications: The Extended Product Approach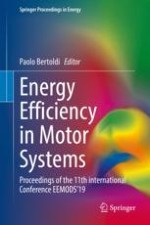 Read first chapter
Authors: Benno Weis, Benoit Leprettre, Martial Patra, Norbert Hanigovszki, Preben Holm, Tim Schuman, Michael Könen, Niels Bidstrup, Kirk Anderson
Publisher: Springer International Publishing
Abstract
Motor applications account for about 45% of the global electricity consumption and represent one of the greatest opportunities for energy savings. The cost of the energy used by a motor represents about 95% of the Total Cost of Ownership leaving the purchase cost at only about 5%. Therefore, optimizing the energy consumed by motor applications is important to minimize both CO2 emissions and operational costs.
However, using energy-efficient components does not guarantee the overall efficiency of the application (or Extended Product). The latter depends essentially on the architecture (which components are implemented) and on the operating point(s) of each component.
The Extended Product Approach (EPA) developed in the IEC 61800-9 series of standards is a methodology for assessing the energy efficiency of an extended product (i.e., motor system and driven equipment) in the context of an application, considering the actual operating points.
The main principle of the EPA is to provide means of determining the power losses of all components at any operating point. The resulting losses of the complete application can be calculated by weighting the losses at each operating point with its operating time. This approach is very generic and can be generalized to the other components of the motor application (transmission, mechanical load, process).
This chapter provides a high-level view of the EPA to stakeholders who are not familiar with it. It also describes how the EPA could be applied to other parts of motor applications (power supply, mechanical components) to provide a consistent framework for assessing overall energy efficiency.