01-04-2014 | Issue 4/2014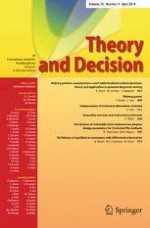 Independence of irrelevant alternatives revisited
Journal:
Author:

Susumu Cato
Abstract
This paper aims to reexamine the axiom of the
independence of irrelevant alternatives
in the theory of social choice. A generalized notion of independence is introduced to clarify an informational requirement of binary independence which is usually imposed in the Arrovian framework. We characterize the implication of binary independence.