01-01-2014 | Essay | Issue 1/2014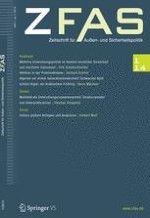 Indiens globale Anliegen und Ansprüche
Author:

Prof. Dr. Herbert Wulf
Important notes
We stand united in our efforts to address the deficit in global governance.
(Manmohan Singh, indischer Premierminister 2011)
Zusammenfassung
Indien ist eine aufstrebende Macht. Trotz des Wirtschaftswachstums leidet die Gesellschaft unter ungleicher Entwicklung, mit Millionen Indern in Armut. Die widersprüchlichen Entwicklungen, interne Sicherheitsprobleme und die komplizierten regionalen Beziehungen sind keine solide Basis für Indiens Außenpolitik. Der außenpolitische Wandel basierte bisher auf Konzepten des Idealismus, Hindu-Nationalismus, Realismus und jetzt auf dem dominierenden Liberalismus und der Internationalisierung. Indiens
Soft Power-
Potenzial bietet eine Perspektive für eine bedeutsamere globale Rolle.