2019 | OriginalPaper | Chapter
Indoor Air Quality in Hospitals: How Is the Situation in Portugal?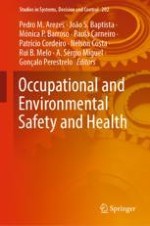 Read first chapter
Authors: Mariana Farraia, Inês Paciência, Ana Isabel Ribeiro, André Moreira, João Cavaleiro Rufo
Publisher: Springer International Publishing
Abstract
Hospitals are complex environments where it is crucial to achieve a good indoor air quality (IAQ) to minimize health risks in patients and workers. The main objectives of this work were to summarise Portuguese legislation regarding IAQ, to review IAQ studies performed in Portuguese hospitals and to compare the results with some European countries, in order to comprehend the suitability of current IAQ laws. Studies regarding IAQ in hospitals were searched in PubMed and through cross-referencing. Legislation regarding IAQ was also researched. IAQ is contemplated in national legislation since 2006. There are few studies regarding IAQ in hospitals, but recent ones reported high levels of particulate matter (PM), formaldehyde, bacteria and fungi. Regarding PM, Portugal reported higher values than European countries. This study reinforced the necessity of evaluating IAQ in clinical settings and establishing guidelines to be applied in complex environments such as hospitals and other clinical settings.