Published in: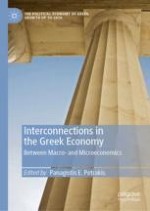 2023 | OriginalPaper | Chapter
1. Industrial Policy and Productive Transformation: An Optimization Approach Based on Input–Output Analysis
Abstract
One of the modern economies' primary objectives is to determine an industrial policy resulting in an improved production-exports structure. A productive structural transformation that shifts production within different sectors through the reallocation of production factors can generate GDP and export growth, thus achieving significant advances in the economy's external position. Furthermore, import substitution policies focusing on upgrading the country's position in global value chains can improve the country's external balance of goods and services and a reduction of the risk of adverse effects on the production process due to macroeconomic imbalances. In this research, a methodology for the optimization of the structural transformation of an economy is proposed, based on Input-Output Analysis (IOA). IOA offers a structural view of industrial relationships and is widely applied for studying the economic effects of structural changes within an economy. The process of structural transformation could achieve significant gains, both in the short term and the long term. Short-term gains would be the achievement of relatively higher economic growth rates as more productive activities are promoted. Long-term gains would be due to technological upgrading, increased accumulative capabilities in key sectors of the economy, and a higher level of international attractiveness.