Published in: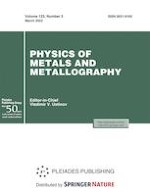 01-03-2022 | ELECTRICAL AND MAGNETIC PROPERTIES
Influence of the Peculiarities of Artificial Fragmentation of Domain Structure in a Fe–3% Si Anisotropic Electrical Steel on the Efficiency of Reducing the Magnetic Losses
Published in: Physics of Metals and Metallography | Issue 3/2022
Log in
Abstract
In samples of industrial anisotropic electrical steel Fe–3% Si, noticeable sheet heterogeneity of its magnetic properties is revealed. This heterogeneity manifests itself in substantial differences in the level of magnetic losses and in the magnitude of magnetic permeability in different regions of the sample under study. It is shown that it is expedient to carry out artificial fragmentation of the domain structure only in regions with the highest magnetic permeability to reduce the magnetic losses in such samples. The application of locally deformed zones in these regions by mechanical scratching leads to a decrease in their magnetic losses by 10–15%, while the value of magnetic losses remained unchanged after the mechanical treatment of other regions of the sample. Such behavior of magnetic losses is qualitatively explained on the basis of domain structure dynamics of Fe–3% Si samples, which has been observed earlier in a series of our previous studies.