03-07-2020 | Original Research | Issue 13/2020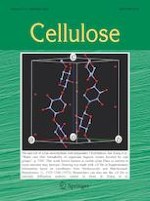 Influence of water on the intrinsic characteristics of cellulose dissolved in an ionic liquid
Journal:
Authors:

Mitsuharu Koide, Hiroshi Urakawa, Kanji Kajiwara, Thomas Rosenau, Isao Wataoka
Important notes
Publisher's Note
Springer Nature remains neutral with regard to jurisdictional claims in published maps and institutional affiliations.
Abstract
The local structure of cellulose, dissolved in the frequently used ionic liquid EMIm-OAc, is modelled by a coaxial double layer cylinder. The cylinder's core consists of a cellulose chain while the sheath is formed by a solvent layer with lower electron density than the bulk solvent. We studied 2% cellulose solutions in EMIm-OAc and their behavior upon addition of increasing amounts of water. At this cellulose concentration, 15 wt% of water induced the precipitation of cellulose. Water molecules did not form an independent phase, but were bound to EMIm-OAc in the cellulose/water/EMIm-OAc solution. The conformational of a cellulose chain changes by adding water into the solution, and the square of the apparent cross-sectional radius of gyration of the cellulose chain becomes zero to negative. This phenomenon is explained by the formation of a solvation shell with lower electron density than the bulk solvent around the cellulose chain.