Published in: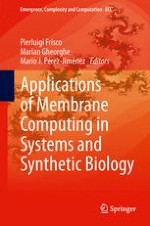 2014 | OriginalPaper | Chapter
1. Infobiotics Workbench: A P Systems Based Tool for Systems and Synthetic Biology
Abstract
This chapter gives an overview of an integrated software suite, the Infobiotics Workbench, which is based on a novel spatial discrete-stochastic P systems modelling framework. The Workbench incorporates three important features, simulation, model checking and optimisation. Its capability for building, analysing and optimising large spatially discrete and stochastic models of multicellular systems makes it a useful, coherent and comprehensive in silico tool in systems and synthetic biology research.