26-12-2016 | Issue 8/2016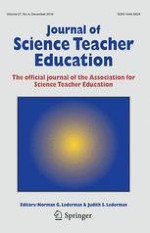 Initial Science Teacher Education in Portugal: The Thoughts of Teacher Educators About the Effects of the Bologna Process
Journal:
Authors:

Laurinda Leite, Luís Dourado, Sofia Morgado
Abstract
Between the 1980s and 2007, Portugal used to have one-stage (5-year period) initial teacher education (ITE) programs. In 2007 and consistent with the Bologna process guidelines, Portuguese teacher education moved toward a two-stage model, which includes a 3-year undergraduate program of subject matter that leads to a
licenciatura
(or bachelor) degree and a 3-year professional master in the teaching of a subject. The way that teacher educators perceive the ITE programs effects the education of prospective teachers and consequently the future of science education. This paper aims at analyzing how science teacher educators perceived the changes that took place in this formal way of educating junior school (7th–9th grades) and high school (10th–12th grades) science teachers in Portugal, due to the implementation of the Bologna guidelines. To attain the objectives of the study, 33 science teacher educators including science specialists and science education specialists answered an open-ended online questionnaire, which focused on the strengths and weaknesses of the pre- and post-Bologna ITE programs, the overall quality of teacher education and measures for improving ITE. The results indicate that science teacher educators were quite happy with all of the ITE models, but they expressed the belief that both the science and the teaching practice components should be strengthened in the post-Bologna masters in teaching. Meanwhile, changes were introduced in Portuguese educational laws, and they proved to be consistent with the opinions of the participants. However, the professional development of teacher educators along with evidence-based ITE programs seems to be necessary conditions for overcoming the challenges that teacher education is still facing in Portugal and worldwide.