15-10-2018 | Issue 4/2018 Open Access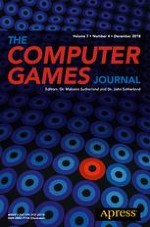 Inside the Loop: The Audio Functionality of Inside
Journal:
Author:

Mathew Arnold
Important notes
All editorial decisions for this article, including selection of reviewers and the final decision, were made by guest editor Dr. Kenny McAlpline.
Abstract
The manner in which soundscapes evolve and change during gameplay can have many implications regarding player experience.
INSIDE
(Playdead in INSIDE. Released on Microsoft Windows, Playstation 4, Xbox One, Nintendo Switch and iOS,
2016
) features a gameplay section in which rhythmic audio cues loop continuously both during gameplay and after player death. This paper uses this aspect of the soundtrack as a case study, examining the effects of looping sound effects and abstract musical cues on player immersion, ludic functionality, and episodic engagement. The concept of spectromorphology proposed by Smalley (Organised Sound 2(2):107–126,
1997
) is used to analyse the way in which musical cues can retain ludic functionality and promote immersion in the absence of diegetic sound design. The "musical suture" (Kamp, in: Ludomusicology: approaches to video game music, Equinox, Sheffield,
2016
) created by continuously looping audio during death and respawn is also examined with regards to immersing the player within an evolving soundscape.