01-11-2016 | Original Paper | Issue 6-7/2017 Open Access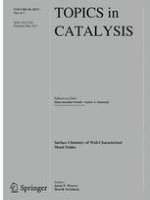 Insights into Silica Bilayer Hydroxylation and Dissolution
Journal:
Authors:

William E. Kaden, Sascha Pomp, Martin Sterrer, Hans-Joachim Freund
Abstract
Hydroxylation and dissolution of well-structured silica bilayer films grown on a ruthenium single-crystal support (SiO
2
/Ru(0001)) was studied by temperature programmed desorption and X-ray photoelectron spectroscopy (XPS). Water desorption signals from SiO
2
/Ru(0001) hydroxylated by electron-bombardment of adsorbed ice at 100 K were found to be comparable to those of hydroxylated bulk silica samples and attributed to adsorbed molecular water and silanol groups (vicinal and terminal). Isotopic exchange between
18
O-labeled SiO
2
and
16
O-labeled water suggests the occurrence of dynamic siloxane bond cleavage and re-formation during electron bombardment. Together with the observed strong dependence of hydroxylation activity on ice coverage, which is found to increase with increasing thickness of the ice layer, a hydroxylation mechanism based on the activation of siloxane bonds by water radiolysis products (e.g. hydroxyls) and subsequent water dissociation is proposed. Dissolution rates obtained from the attenuation of Si 2
p
and O 1
s
XPS signal intensities upon exposure of bilayer SiO
2
/Ru(0001) to alkaline conditions at various temperatures are in agreement with the proposed rate model for bulk silica dissolution by OH
−
attack and provide further corroboration of the proposed hydroxylation mechanism.