22-06-2019 | Issue 3/2020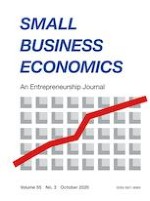 Intangible assets and SMEs' export behavior: a meta-analytical perspective
Journal:
Authors:

Stephanie E. Mansion, Andreas Bausch
Important notes
Publisher's note
Springer Nature remains neutral with regard to jurisdictional claims in published maps and institutional affiliations.
Abstract
Thanks to their dominant role in fostering socioeconomic prosperity, exporting small- and medium-sized enterprises (SMEs) are perceived to be a major societal asset. Coming out of the great financial crisis, initiatives to nurture their (export) competitiveness have been high on the political agenda. In this vein, a growing literature explores the pertinence of firm-specific factors for explaining differences in SMEs' export behavior. However, the puzzle of how intangible, knowledge-based assets, such as human and relational capital, contribute to establishing a viable position in export markets remains. By synthesizing empirical evidence from 167 studies, this meta-analytic path analysis reveals significant differential direct and indirect effects of human and relational capital endowment on dimensions of export behavior. Concurrently, our analysis uncovered that positive influences of intangible assets are context-dependent. In fact, human resources appear to be particularly pertinent for exporting SMEs in developing economies.