2012 | OriginalPaper | Chapter
Integrated Climate Action: Linking Mitigation and Adaptation to Make Indonesian Cities Resilient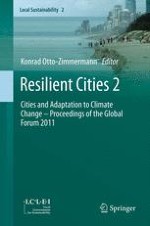 Read first chapter
Author: Purnomo Sidi
Publisher: Springer Netherlands
Abstract
Setting different targets for mitigation and adaptation between central and city government generates a different focus on climate change implementation for each level of government in Indonesia. Nevertheless, both mitigation and adaptation share an obvious common denominator, climate change, and are connected to each other on the operational level. As a result, linking mitigation and adaptation in an integrated climate action plan (adaptive management) is the best way to make Indonesian cities more resilient.
Some training sessions and workshops have already taken place for implementing an integrated climate action plan. As an output, city governments can generate an Integrated City Climate Change Strategy (ICCCS) – a cross-sectoral guideline for supporting the establishment of city policies and measures related to climate change.
Although linking mitigation and adaptation can generate mutual benefits, the difference and potential conflict between the two approaches have also been well documented. To avoid this harmful link, city governments need to be aware of the indications of maladaptation and mal-mitigation at the start of program implementation. Moreover, close coordination between city and neighbourhood districts is the most important way to prevent a harmful link between mitigation and adaptation at the city level.