2021 | OriginalPaper | Chapter
Integrated Treatment of Pig Production Wastewaters Using Pre-treatment with Biomass Ash and Bioremediation by Microalgae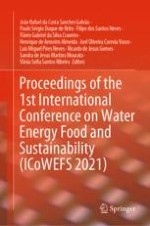 Read first chapter
Authors: Catarina Viegas, Margarida Gonçalves
Publisher: Springer International Publishing
Abstract
Animal production leads to effluents with high loads of macro and micronutrients, and therefore with a huge potential of water bodies eutrophication. Conventional wastewater treatments are expensive, energy-consuming, release greenhouse gases (GHG), and produce a residual sludge. The use of microalgae for wastewater treatment allows recovery of nutrients (N, P, COD), minimize GHG emissions, and can significantly reduce costs relatively to conventional treatments. Microalgae have been used in the bioremediation of various effluents, such as sewage, manure, brewery, dairy, urban, among others.
In this work, piggery effluents were remediated by combining a physico-chemical pre-treatment with biomass ash and bioremediation with microalgae (
Chlorella vulgaris
,
Chlorella protothecoides
and
Tetradesmus obliquus
). The mixture of piggery effluent with biomass ash was stirred and fractionated by decantation to yield a liquid fraction and a solid precipitate. The fortification of the liquid fraction with olive-oil mill wastewater was also evaluated. Microalgae grown in the pre-treated effluent, in semi-continuous mode reached productivities of 258 and 237 mg L
−1
day
−1
for
C. vulgaris
and
T. obliquus
, respectively. Both microalgae reached nutrient removal efficiencies of 100, 100, 90, and 100% for N, P, COD, and BOD
5
, respectively. The microalgae composition was evaluated in terms of protein, sugar, lipid, and ash contents.
The produced microalgae biomass and the solid precipitate were tested as biostimulants for the germination of wheat and watercress seeds with positive results. In particular, fortification with
C. vulgaris
biomass produced an increase of 86% in the germination index of watercress seeds.