07-05-2021 | Issue 1/2021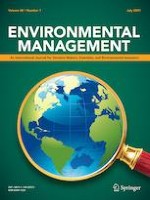 Integrating Regional Frameworks and Local Variability for Riverine Bioassessment
Journal:
Authors:

Colby D. Denison, Mark C. Scott, Kevin M. Kubach, Brandon K. Peoples
Important notes
Supplementary information
Publisher's note
Springer Nature remains neutral with regard to jurisdictional claims in published maps and institutional affiliations.
Abstract
Regional frameworks enable bioassessment methods to detect anthropogenic effects on ecosystems amid natural variability. Conventional approaches to regionalization have used coarse geographical frameworks to separate sites similar in their ecological (ecoregion) or faunal (basin) characteristics. Expectations for individual streams are then adjusted for within-region variability in local environmental characteristics. Integrating regional frameworks and local variability may improve the sensitivity and performance of bioassessments. In this study, we used a biologically-informed stream classification to develop an integrated regional framework for bioassessment considering the effects of ecoregion, basin, and local environmental variables on wadeable stream fish communities of South Carolina, USA. Our integrated framework was compared against conventional regional frameworks indexing ecoregions or basins alone. Frameworks were evaluated by their ability to (1) efficiently partition community variation and (2) allow for the detection of anthropogenic effects on fish communities. We found an integrated framework better described natural variability in stream fish communities. In addition, we found highly regional relationships between fish metrics and anthropogenic disturbance among frameworks, suggesting appropriate bioassessment metrics will differ across regions in our study area. Differences in community response to disturbance among frameworks emphasize the importance of testing metrics for their hypothesized sensitivity before using them in bioassessment. This study ultimately supports the integration of regional frameworks across spatial scales to classify streams for bioassessment, and provides an analytical framework from which to evaluate biotic variation and metric utility in the context of bioassessment.