24-11-2018 | Methodologies and Application | Issue 21/2019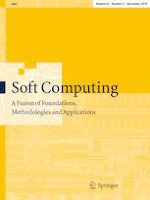 Intelligent hepatitis diagnosis using adaptive neuro-fuzzy inference system and information gain method
Journal:
Authors:

Waheed Ahmad, Ayaz Ahmad, Amjad Iqbal, Muhammad Hamayun, Anwar Hussain, Gauhar Rehman, Salman Khan, Ubaid Ullah Khan, Dawar Khan, Lican Huang
Important notes
Publisher's Note
Springer Nature remains neutral with regard to jurisdictional claims in published maps and institutional affiliations.
Abstract
Hepatitis, a common liver inflammation, is one of the major public health issues around the world. Proper interpretation of clinical data for the diagnosis of hepatitis is an important problem that needs to be addressed. In this study, a hybrid intelligent approach, combining information gain method and adaptive neuro-fuzzy inference system (ANFIS), is proposed for the diagnosis of fatal hepatitis disorder. Initially, the hepatitis dataset obtained from the University of California Irvine machine learning repository is preprocessed to make it suitable for the mining process. After the preprocessing stage, information gain method is applied to condense the number of features in order to decrease computation time and classification complexity. Selected features are then fed into the ANFIS classifier system. The performance of the proposed approach was evaluated using statistical methods, and the highest results for the classification accuracy, specificity, and sensitivity analysis of the proposed system reached were 95.24%, 91.7%, and 96.17%, respectively. The obtained results show that the proposed intelligent system has a good diagnosis performance and can be applied as a promising tool for the diagnosis of hepatitis.