2010 | OriginalPaper | Chapter
Inter-Organizational Information System Architecture: A Service-Oriented Approach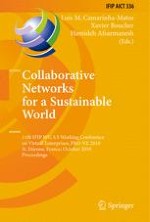 Read first chapter
Authors: Mohammad Kazem Haki, Maia Wentland Forte
Publisher: Springer Berlin Heidelberg
The strategic value of Inter-Organizational Information System (IOIS), regarded as an automated information system shared by two or more companies, highly depends on its architecture to support agile business needs. The main requirements of this architecture for supporting business agility are
flexibility
and scalability
,
interoperability and integration
as well as
process-centric architecture and continuous business process improvement
. We claim that the service-oriented architecture (SOA) approach, the latest in a long series of attempts in software engineering, is the best for meeting these requirements. In this paper, after investigating the compatibility of SOA features with IOISs requirements, we propose a service-oriented IOIS architecture composed of business service, application and integration layers.