01-01-2015 | Original Contribution | Issue 1/2015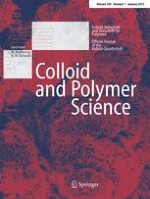 Interactions of Pluronic block copolymers with lipid vesicles depend on lipid phase and Pluronic aggregation state
Journal:
Authors:

André Hädicke, Alfred Blume
Abstract
Differential scanning calorimetry (DSC) was used to systematically study the interaction of the Pluronic block copolymers with lipid vesicles. Concentration-dependent experiments were carried out to investigate the influence of different Pluronics (F127, F88, and F87) on the gel to liquid-crystalline phase transition of the lipids 1,2-dimyristoyl-
sn
-glycero-3-phosphocholine (DMPC) and 1,2-distearoyl-
sn
-glycero-3-phosphocholine (DSPC) and on the micellization of Pluronics. The incorporation of Pluronics into vesicles depends strongly on the lipid phase as well as the aggregation state of the polymer. For lipids in the liquid-crystalline state, membrane fluidity is high and incorporation of the poly-(propylene oxide) (PPO) part of single polymers is possible at high polymer concentration. Pluronic F127 with a longer PPO chain shows larger effects than the other Pluronics. Incorporation into gel-state liposomes is hindered, and self-aggregation into Pluronic micelles is favored. The peak width and the transition temperature of the micellization of the Pluronics are lowered in mixtures with lipids.