2006 | OriginalPaper | Chapter
Interactive Decision Support Based on Multiobjective Evolutionary Algorithms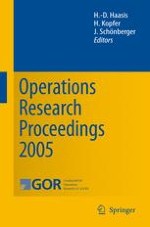 Read first chapter
Author: Thomas Hanne
Publisher: Springer Berlin Heidelberg
Although, we do not yet have practical experiences with using the new approach for multicriteria decision support and optimization, it is appealing because the interaction between navigation interface and MOEA solves two problems at the same time. First, the MOEA provides a new and effective means for feeding the navigtion interface with data on solutions to a hard-to-solve multiobjective optimization problem in an on-line fashion. The usage of solution interpolation or a database resulting from a computationally expensive apriori calculation of solutions can be avoided, at least in part.
Secondly, information from the navigation interface allows the MOEA to concentrate on a preferable subset of solutions which is frequently much smaller than the whole set of Pareto-optimal solutions. Thus, the computational effort of the MOEA may decrease drastically.
The asynchronous concept of the communication between user interface and MOEA avoids waiting times both for the human user and for the computer. A user has still the possibility to let the MOEA run autonomously for a longer time (or until a stopping criterion for the MOEA is reached) and then navigate through the final result of the algorithm. Thus, complexity of user input and frequency may be kept to an acceptable amount.