01-11-2013 | Issue 2/2013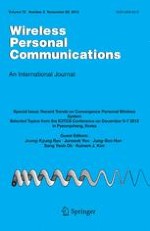 Interactive Design Recommendation Using Sensor Based Smart Wear and Weather WebBot
Journal:
Authors:

Kyung-Yong Chung, Young-Joo Na, Jung-Hyun Lee
Important notes
This paper is significantly revised from an earlier version presented at the International Conference on Information Science and Applications.
Abstract
Analysis of a customer's sensibility preferences is an important strategy in a market that is becoming increasingly more customer-oriented. In this paper, the interactive design recommendation using the sensor based smart wear and the weather WebBot (DRS-WB) is proposed. The proposed method is increasing the efficiency of merchandising for human-oriented sensibility product designs. Development of the DRS-WB included a user interface and collaborative filtering of textile and fashion designs to satisfy the user's needs. Collaborative filtering is used to recommend designs of interest for users based on predictive relationships discovered between the current user and other previous users. Current weather information is simultaneously acquired from the sensor based smart wear and the weather WebBot. The sensor based smart wear is fabricated as a way of non-tight and comfortable style fitting for the curves of the human body based on clothes to wear in daily life. The design sample of the smart wear uses basic stretch materials and is designed to sustain its wearable property. The weather WebBot uses a database of weather forecast information extracted from the Web pages and RSS (Really Simple Syndication) feed of the Korea Meteorological Administration and collects information from the various links off the main URL. Information is stored in a database using XML query for collecting effective weather data and processed as a form of XML through extracting and exchanging the information. These signals are then transmitted to the connected DRS-WB. This information can be easily monitored in real time. Textile designs and fashion designs were incorporated into the survey. Pictures of fashion design details such as collar type, sleeve type, skirt type, skirt length, and color tone were evaluated in terms of sensibility. Finally, this paper suggests empirical applications to verify the adequacy and validity of this system.