01-06-2008 | Issue 6/2008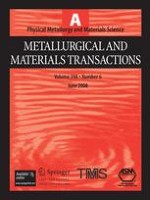 Interfacial Dislocation Networks and Creep in Directional Coarsened Ru-Containing Nickel-Base Single-Crystal Superalloys
Authors:

L.J. Carroll, Q. Feng, T.M. Pollock
Important notes
Manuscript submitted May 25, 2007.
Abstract
Mechanisms of creep deformation in nickel-base superalloy single crystals in the directional coarsening regime have been studied in alloys with large variations in
γ
-
γ
′ lattice misfit and phase composition, achieved by Ru additions and variable levels of Cr and Co. Interfacial dislocation spacings established by long-term annealing experiments under no externally applied stress indicate that the experimental alloys have high-temperature lattice misfits ranging from near-zero to as large as −0.65 pct. Variation in misfit influences the stress-induced directional coarsening (rafting) behavior during creep deformation at 950 °C and 290 MPa. In postcreep deformed material, the density of excess dislocations (defined as the dislocations beyond those necessary to relieve the lattice misfit) at the
γ
-
γ
′ interfaces varied with alloy composition, with the most creep-resistant alloy containing the highest excess interfacial dislocation density. In the directional coarsening creep regime, continued deformation requires shearing of the
γ
′ rafts and is strongly influenced by the resistance of the precipitates to shearing as well as the interfacial dislocation structure. A preliminary model for creep in the rafting regime is developed.