22-04-2021 | Issue 1/2021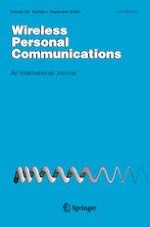 Interference-Aware QoS Guarantees in OFDM-Based Cognitive Radio Networks Based on Branch and Bound
Journal:
Authors:

Youcef Benmouna, Badr Benmammar
Important notes
Publisher's Note
Springer Nature remains neutral with regard to jurisdictional claims in published maps and institutional affiliations.
Abstract
In the past decade, the OFDM access method has been widely used in different types of networks. Indeed; OFDM is the technology of choice for all major wireless systems, including WIFI, WiMAX, 3G, 4G and 5G. In this paper, we are interested in its application within a cognitive radio networks. The main objective is to provide an acceptable quality of service for the secondary user while minimizing interference with the primary user. This problem has been formulated in the literature in the form of a multi-objective function with three modes of communication (multimedia, reliable and low battery). In this paper, we exploit the efficiency of the bounding operators of the branch and bound method in order to solve this problem. The simulation results showed the effectiveness of our proposal by comparing it with the cuckoo search algorithm which has already been validated in the literature for this type of problem. Our proposal surpasses the cuckoo search algorithm for two modes of communication in terms of fitness and execution time.