07-09-2016 | Issue 3/2017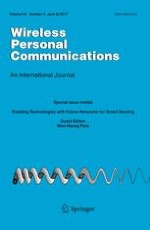 Interference Aware Sensing Scheme in Cognitive Radio System
Journal:
Authors:

Gaurav Verma, O. P. Sahu
Abstract
In the conventional cognitive radio (CR) system whenever two secondary nodes communicate to each other on a particular channel, one of the nodes (i.e., out of secondary transmitter and receiver) act as a sensing node to detect the reappearance of licensed user. This paper discusses some of the biasing conditions under which the signal to noise ratio of the licensed user at two sensing nodes differ, so one of the nodes at random (out of two) facilitate better sensing results than the other. Under this situation, the conventional CR may not always ensure a better sensing performance which can degrade its achievable throughput. To avoid such a situation, we propose an interference aware CR system which allows sensing to be performed at both the sides (transmitter and receiver) and considers a side with the best sensing results. Under the proposed system, the CR achieves a significant gain in its throughput compared to the system in which the sensing results of only one side are considered. To further improve the sensing performance, the CR system was analyzed under the cooperation of
M
-out-of-
K
CRs. The obtained results show that, under cooperation, the CR system acquires a significant gain in its throughput than that of the non-cooperation.