03-06-2020 | Issue 1/2021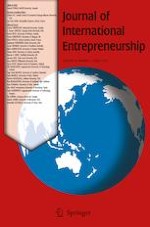 International opportunity recognition: A comprehensive bibliometric review
Authors:

Eduardo Terán-Yépez, David Jiménez-Castillo, Manuel Sánchez-Pérez
Important notes
Publisher's note
Springer Nature remains neutral with regard to jurisdictional claims in published maps and institutional affiliations.
Abstract
International opportunity recognition (IOR) has been identified as being a critical process within international entrepreneurship (IE), as evidenced by the increase in the scholarly literature on the topic in the last 15 years. Despite the importance of a more rigorous approach to IOR studies, current knowledge concerning progress on this subject is scarce. The main objective of this study is to provide researchers with a better understanding of how research on IOR has evolved over the years. Thus, this study analyzes IOR evolutionary development by examining the conceptual evolution and mapping the structure of IOR research relating to IE, in order to provide insights into scholarly research as well as to detect current and future trends. Two complementary tools, SciMAT and VOSviewer, are used for this analysis. In addition, a bibliometric performance analysis focused on indicators such as productivity, citations, and the h-Index was carried out. The results show that IOR research has undergone a significant increase in recent years (2014–2018) evolving from an emerging issue between 1987 and 2012 to became a key topic which, however, must continue to be developed. The most productive journal is the
Journal of International Entrepreneurship
. The leading three publishing countries are Australia, the USA, and the UK. Moreover, it could be argued that in the emerging years, the IOR phenomenon was treated at both company level and individual level, but the most recent studies are investigating this phenomenon mainly at an individual level. As our main conclusion, it could be said that despite the growth in IOR research, study in this field is still very scarce, which allows us to suggest some future research directions.