2009 | OriginalPaper | Chapter
Interne Kommunikation bei Insourcingdeals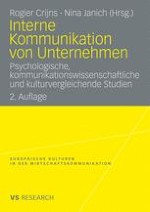 Read first chapter
Authors: Mascha van de Kuit, Dirk de Natris
Publisher: VS Verlag für Sozialwissenschaften
Um die Kundenwerbung zu unterstützen und als Organisation zu wachsen, können Unternehmen zu Outsourcing übergehen:
"Outsourcing is the transfer or delegation to an external service provider of the operation and day-to-day management of a business process. The customer receives a service that performs a distinct business function that fits into the customer's overall business operations." (http://www.outsourcing-law.com)
Dies kann zum Beispiel bedeuten, dass eine Organisation, die eine eigene Abteilung für Informationstechnologie besitzt, sich dafür entscheidet diesen Bereich an eine externe Firma zu übergeben. In einem solchen Fall besteht die Möglichkeit, dass das beauftragte Unternehmen die Mitarbeiter des beauftragenden Unternehmens, die bis dahin mit dieser Arbeit beschäftigt waren, übernimmt. Dieser Vorgang wird
Outsourcing
genannt; aus der Sicht der beauftragten/ externen Organisation wird dieser Vorgang als
Insourcing
bezeichnet. Da Insourcing mit großen finanziellen Risiken für das übernehmende Unternehmen verbunden ist, muss es ein starkes Interesse an einer erfolgreichen Abwicklung haben.