22-02-2019 | Hauptbeiträge - Offener Teil | Issue 1/2019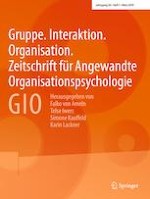 Interpersonal synchrony increases social cohesion, reduces work-related stress and prevents sickdays: a longitudinal field experiment
Journal:
Authors:

Prof. Dr. Anja S. Göritz, Dr. Miriam Rennung
Important notes
A.S. Göritz and M. Rennung contributed equally to this work. The order of authorship is alphabetical.
Abstract
Background
This longitudinal field experiment examines synchrony to facilitate collaboration in organizations.
Objectives
Specifically, we tested if (1) the cohesion-enhancing effect of synchronous movement replicates in an organizational setting and (2) synchronous movement reduces stress on the level of the individual.
Materials and Methods
Employees of a publishing company who underwent a physical exercise intervention that involved synchronous movement for 9 weeks were compared with a treated (asynchronous movement) and a nontreated control group (no movement). Data were obtained at three measurement points.
Results
Synchronous movement enhanced social closeness, reduced work-related stress and diminished sickdays immediately following the intervention. The longer-term effects were either smaller than the short-term effects or not discernible at all.
Discussion
As the synchrony intervention was short, simple, and well accepted among employees, it is a potentially useful component of workplace health or team development initiatives.