01-06-2009 | WI – Interview | Issue 3/2009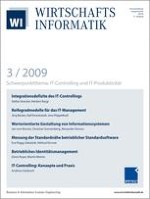 Interview mit Bettina Uhlich zum Thema "IT-Controlling"
Journal:
Author:

Prof. Dr. Georg Rainer Hofmann
Important notes
This article is also available in English via http://www.springerlink.com and http://www.bise-journal.org: Hofmann G-R (2009) Interview with Bettina Uhlich on"IT-Controlling". Bus. Inf. Syst. Eng. doi: 10.1007/s12599-009-0050-7.
Frau Dr. Bettina Uhlich ist seit 2006 Mitglied der Geschäftsführung der Evonik Services GmbH im Konzern der Evonik Industries. Vor dieser Funktion hat Frau Dr. Uhlich in der vormaligen Degussa AG (heute Evonik Degussa GmbH) in fast 20-jähriger Tätigkeit in verschiedenen Fach- und Führungsverantwortungen gearbeitet. Begonnen hat sie ihre Laufbahn im Konzernbereich Finance und Accounting, hat danach in operativer Verantwortung im Chemiebereich im strategischen und operativen Controlling gearbeitet. In den letzten acht Jahren war Frau Dr. Uhlich mitverantwortlich, als Leiterin von Servicebereichen das Geschäftsmodell des internen Shared-Service-Bereichs erfolgreich zu etablieren. Mit der Gründung des Konzerns Evonik Industries wurde Frau Dr. Uhlich in die Geschäftsführung der Evonik Services GmbH berufen. ...