Published in: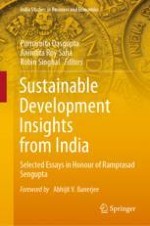 2021 | OriginalPaper | Chapter
Introducing Contemporary Development and Sustainability Concerns for India
Abstract
This chapter is an introduction to the book. The book itself is an attempt to further the discussion on the continued coexistence of synergies and incompatibilities, between sustainability and conventional economic development, in a world that considers itself to be plunged into a crisis as never before with the occurrence of the COVID-19 pandemic. The first part of the chapter elaborates upon the context and rationale for the book, setting the tone for the second part which summarizes the main points from the chapters that follow. This introductory chapter introduces the reader to some of the key opportunities and challenges for sustainable development that have been examined in detail by the contributing authors in their subsequent chapters. The chapters cover various dimensions pertaining to the theory and practice of sustainability and have been organised into four themes, namely The Big Picture: Evolving Perspectives; The Energy Scenario: Dilemmas and Opportunities; Sustainability Cross-Cuts: Developmental Aspects; and Externality Empirics: Knowledge and Practice.