2021 | OriginalPaper | Chapter
Introducing Natural Language Interface to Databases for Data-Driven Small and Medium Enterprises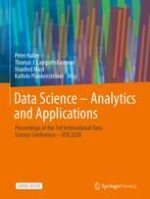 Read first chapter
This paper summarizes major challenges and current approaches in the context of constructing Natural Language Interfaces to Databases for data-driven small and medium enterprises.
Author: Dejan Radovanovic
Publisher: Springer Fachmedien Wiesbaden
Reading text, identifying key ideas, summarizing, making connections and other tasks that require comprehension and context are easy tasks for humans, but training a computer to perform these tasks is a challenge. Recent advances in deep learning make it possible to interpret the text effectively and achieve high performance results across natural language tasks. Interacting with relational databases trough natural language enables users of any background to query and analyze a huge amount of data in a user-friendly way. The purpose of Natural Language Interface is to allow users to compose questions in Natural Language and receive the response also in Natural Language. The idea of using natural language instead of SQL has promoted the development of new type of processing called Natural Language Interface to Database (NLIDB). This paper is an introduction to Natural Language Processing and Natural Language Interface to Database, significant challenges in this research field and how to construct a company specific dataset. It also gives a brief overview of the major techniques used to develop Natural Language Interface to Databases.