2020 | OriginalPaper | Chapter Open Access
1. Introduction: A Framework for Managing Food Waste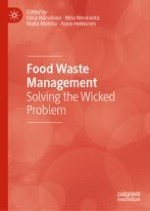 Authors: Elina Närvänen, Nina Mesiranta, Malla Mattila, Anna Heikkinen
Publisher: Springer International Publishing
The Wicked Problem of Food Waste
The book is a multidisciplinary project, combining research from the social sciences including business studies, consumer research, marketing, media studies, design thinking and environmental research. What is common to the chapters of the book is a strong focus on the solutions needed to reduce and prevent food waste. In the book, food waste management is perceived as a multilevel, multi-actor effort to prevent and reduce food waste through various solutions. In our view, it may include, for instance, enacting food management skills at households, stores and restaurants, managing supply and demand for food at all levels and, finally, managing what happens after food becomes inedible to humans. Hence, it is not only a technical solution related to handling waste. As the framework illustrates, food waste management requires shared responsibility of all actors at multiple levels from everyday life to policy level.
Managing Food Waste Reduction—Introducing the Book's Chapters
Conclusions
Food waste research has gradually moved from focussing on understanding the phenomenon and measuring it towards less actor-centric, more holistic approaches. This book represents this development as it combines research from multiple fields and a variety of theoretical perspectives, as well as provides practical insights about the issue.
Since food waste is a wicked problem, it is important to adopt a holistic view. The chapters of this book discuss different levels where change is needed: actors, systems and sociocultural and institutional structures. This introductory chapter introduces a framework that incorporates the chapters and their relations to each other in solving the wicked problem of food waste. Accordingly, it highlights the need for interconnected, multilevel solutions that go beyond single actors and activities within predefined silos of the food system. Furthermore, even though food waste can be perceived as a resource, the solutions (such as conversion to biogas) should not increase the demand for food waste. Instead, preferable solutions should create incentives to prevent it from emerging. The framework also operates as a platform for future research related to food waste, hopefully inspiring researchers to adopt new avenues focussed on ensuring its prevention.
In addition to the solutions provided by this book, we argue that solving the wicked problem of food waste will require both incentives and sanctions. Reducing and preventing food waste needs to be considered as positive—on the assumption that appeals to guilt seldom spur action. However, remaining at the level of individual actors will not be sufficient as the impactful solutions may lie elsewhere than where the food waste occurs. Furthermore, there needs to be regulatory pressure to sanction behaviours leading to food waste as, despite being aware of the problem, actors might not own the problem.
In managing food waste, we need active change agents to develop and implement solutions at different levels of the food system as well as more holistically between systems. The current food system faces a variety of wicked problems, of which food waste is just one. A sustainable future requires the critical evaluation and transformation of the food system as a whole. We hope that this book will provide research-based insights and solutions for these change agents and inspire them to act as well as mobilise others in the quest to battle against the wicked problem of food waste.
Open Access
This chapter is licensed under the terms of the Creative Commons Attribution 4.0 International License (http://creativecommons.org/licenses/by/4.0/), which permits use, sharing, adaptation, distribution and reproduction in any medium or format, as long as you give appropriate credit to the original author(s) and the source, provide a link to the Creative Commons license and indicate if changes were made.
The images or other third party material in this chapter are included in the chapter's Creative Commons license, unless indicated otherwise in a credit line to the material. If material is not included in the chapter's Creative Commons license and your intended use is not permitted by statutory regulation or exceeds the permitted use, you will need to obtain permission directly from the copyright holder.