2011 | OriginalPaper | Chapter
Introduction: How to do it?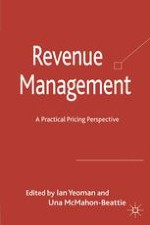 Authors: Ian Yeoman, Una McMahon-Beattie
Publisher: Palgrave Macmillan UK
Any business must know its customers, specifically you need to know how much your customers will pay for a product and device appropriate strategies. This is not about offering the lowest price in order to fill capacity. It's about knowing your market segment, how much they will pay when they will purchase and what distribution channels they will use. Pricing is about deciding your market position, that is, premium or low cost, whereas Revenue Management is the strategic and tactical decisions firms take in order to optimize revenues and profits. Since the publication of Peter Belobaba's PhD thesis work. Air Travel Demand and Airline Seat Inventory Management (1987), which was a defining moment in the management of complexity, capacity allocation and real-time inventory solutions, Revenue Management has come of age, fuelled by superior management science models and greater accessibility to technology in addition to the acceptance of the guiding principle of Revenue Management in enhancing the bottom line. At the same time, society has shifted from manufacturing to a service industries economy where the unit of inventory is time, in which the consumer year on year is more price sensitive. Today, in the age of the Internet, the management time slots as inventory along with instant purchase is the foundation of many consumer products and services. Hence, Revenue Management has spawned across many industries and applications.