Published in: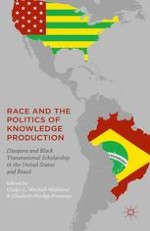 2016 | OriginalPaper | Chapter
Introduction: In Pursuit of Du Bois's "Second-Sight" through Diasporic Dialogues
In Souls of Black Folk, sociologist W. E. B. Du Bois elaborates on the notion of "double-consciousness," a concept that captures how racial marginalization shapes the perspectives, experiences, and identity of blacks in American society. He characterizes blacks' positionality as one marked by clashing dualities that create "two warring souls, two thoughts, two un-reconciled strivings; two warring ideals in one dark body" (Du Bois 1903 [1996], 5). But he also notes that when this unique positionality is stimulated and directed, it can ultimately give way to heightened awareness and discovery, what he refers to as "second-sight." Du Bois's prolific and pioneering contribution to the social sciences, unmatched by those in his time or ours, is perhaps the best example of the manifestation of this "second-sight" (Morris 2015). His assertions about "double-consciousness" are cited profusely in interdisciplinary and international contexts, but his statements about "second-sight" have not garnered nearly as much attention despite their implications for black researchers' knowledge production.