Published in: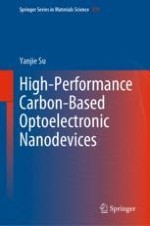 2022 | OriginalPaper | Chapter
1. Introduction of Carbon Nanostructures
Abstract
Unique electron configuration and multiple chemical bonding possibility make carbon form various carbon allotropes with completely different properties, which can exhibit semiconducting, metallic or insulating, highly transparent or extremely dark, and variable thermal conductivity. Nowadays, a large number of carbon nanomaterials with zero-, one- and two-dimensional structures have been extensively explored and utilized in the different fields. Especially, single-walled carbon nanotubes (SWCNTs) and graphene are considered as great promising candidates for next-generation nanoelectronics and nano-optoelectronics. Therefore, low-dimensional carbon nanomaterials have attracted more and more attentions from both academia and industry. With the development of preparation and process technologies, they are expected to be more widely practically applied in various fields. Herein, we will comprehensively introduce the carbon and its low-dimensional allotropes. And the current applications of carbon nanotubes and graphene in various fields will be simply introduced. Finally, the current challenges and further perspectives will also be discussed at the end of this chapter.