Published in: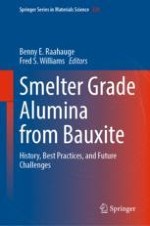 2022 | OriginalPaper | Chapter
1. Introduction: Primary Aluminum–Alumina–Bauxite
Abstract
This book centers on the production of purified alumina (Al2O3) that is used as a feedstock to smelting cells that convert alumina to purified aluminum (Al). The smelting process used universally around the world for the production of aluminum is known as the Hall-Heroult process. This process was independently discovered and patented in1886 in the United States by Charles Martin Hall and in France by Paul Heroult. For the process to be commercial, however an inexpensive supply of high purity alumina was necessary. Fortuitously, in 1888, the Austrian chemist, Karl Joseph Bayer patented a simple caustic based chemical process for recovery of purified alumina using bauxite as a raw material.
Bauxite turned out to be a very abundant raw material, although, primarily in the tropical regions of the world. As a result, the combination of these two processes remain to this date the most economical method of producing purified aluminum metal.
This Chapter gives an overview of the Bayer Process as a lead into the following chapters where all aspects of the history and improvements to the original process are discussed. Also in this chapter is a brief discussion of alternative aluminum containing raw materials and processes that have been researched and, in a few cases, commercially used to recover alumina.
In 2020 the production of Smelter Grade Alumina (SGA) reached 126.7 Mton with China accounting for 53.3%. The corresponding global average energy intensity was about 10.7 GJ/ton SGA. The global demand growth for primary aluminum in 2021 is estimated to increase about 7% per annum, driving the demand for SGA subject to changes in stored inventory and any oncoming new capacity commissioned.
By the end of 2020, the price of SGA was 305 US$/ton, up from 275 US$/ton the year earlier. The decoupling of SGA prices as a percentage of the 3-month LME primary aluminum price continues.
The focus on the Environmental Footprints is changing from best practice bauxite residue management to reduction of "green-house" gases, notably CO2, which appear to be a tremendous challenge for the global alumina industry for many years to come.