Published in: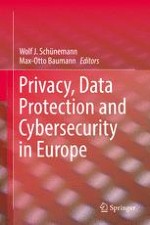 2017 | OriginalPaper | Chapter
Introduction: Privacy, Data Protection and Cybersecurity in Europe
The Conceptual and Factual Field
Abstract
Our introduction consists of four steps. In the first, we prepare the field by defining and discussing the core concepts of this book—privacy, data protection and cybersecurity. All three issues come with a distinct research tradition, but in the digitised society, these issues increasingly overlap, which arguably necessitates a fresh scientific approach. In the second step, we try to disentangle the complex net of interests and dynamics around these issues by proposing an actor-based approach, distinguishing three ideal-types of actors: citizens/users, the business sector and the state which we understand as forming a triangular relationship, a "ménage a trois", where all interests are also related to collective societal values such as security, efficiency, equality and trust. This concept is hardly novel, but it allows us to identify a distinct social science perspective on privacy and data protection as politically contested issues—a perspective which is currently largely missing in the literature. It also offers a framework for comparative studies, as for example societies can be expected to direct their regulatory efforts towards different balances of interests. In the third step, we focus particularly on cybersecurity and suggest on the basis of a literature review that discourse studies offer an interesting avenue for comparative study, advancing new research that goes beyond technicalities and connects cybersecurity with broader societal factors as identified above. In the fourth step, the introduction concludes with a brief overview of the individual contributions that we have organized in three sections.