2013 | OriginalPaper | Chapter
1. Introduction: Research Questions and Design of the Analysis of Governance and "Epistemic Governance" of and in Higher Education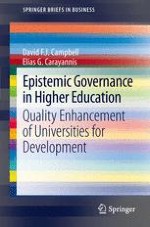 Authors: David F. J. Campbell, Elias G. Carayannis
Publisher: Springer New York
Abstract
In the following, we present a comprehensive analysis of
governance of and in higher education
that is based largely on a literature review, thus representing publicly accessible knowledge. We address and cover key publications on these topics, which were released in recent years. This also defines our first research question. Our second research question, however, is in analytical terms already more specific. We apply the concept of
"epistemic governance"
to higher education and elaborate in more detail what epistemic governance may mean for the governance of and in higher education (currently and in the future).
Epistemic governance refers to the epistemic structure and "knowledge paradigms" that underlie higher education.
We compare epistemic governance with the reviewed literature on higher education governance. After a definition of two key terms (governance and higher education) in Chap. 2, our analysis engages broadly in a reviewing and discussion of different concepts of governance of and in higher education (Chap. 3), and compares this with epistemic governance wherever necessary and appropriate. Epistemic governance as such we discuss and present in Sect. 3.2.2. In Conclusion, we then focus on possible implications of epistemic governance for the academic profession (academic faculty) and their academic careers.