Published in: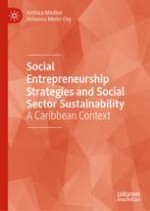 2023 | OriginalPaper | Chapter
1. Introduction: Social Entrepreneurship in Context
Abstract
This maiden chapter introduces the book's central themes, establishing context, rationale, and structure. It introduces the fundamental concepts of social entrepreneurship [SE], tracing the intellectual and conceptual roots by leveraging theories and concepts associated with entrepreneurship and business management, concluding that social entrepreneurship is entrepreneurship in the social sector. Demonstrating the functional similarities between a business and a nonprofit organisation [NPO], the chapter supports the advocated position that SE is entrepreneurial and business-like actions supported by earned income, enabling NPOs' operational sustainability while creating social value. Emphasising entrepreneurship concepts distinguishes social entrepreneurs from social workers who also operate in the social sector. Recognising the limitation of developing countries, particularly small islands like the Caribbean, it explores the relevance of SE concepts in a developing context.