Published in: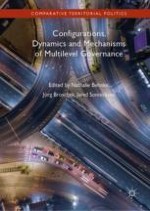 2019 | OriginalPaper | Chapter
1. Introduction: The Relevance of Studying Multilevel Governance
Abstract
This introductory chapter situates the volume in the broader context of research on multilevel politics. Approximately 20 years after the first influential works on the then new notion of multilevel governance, it aims to present an up-to-date state of the art. Multilevel governance theory has become more refined since; also, its notions are fruitfully being used by different strands of research. Mirroring Arthur Benz's multifaceted research agenda, the volume bundles contributions in four interrelated themes: Governance within the modern state, especially in the field of public administration (1); governance among various tiers inside and outside the framework of the modern state (2); federalism, with a special focus on its relationship with democracy (3) and, finally, continuity and change of (multilevel) governance arrangements (4). We argue that this array of contributions illustrates the great potential of multilevel governance for analysing most instances of modern governing under conditions of complexity and interdependence.