Published in: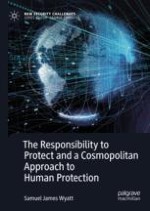 2019 | OriginalPaper | Chapter
1. Introduction: The Responsibility to Protect (R2P) and a Cosmopolitan Approach to Human Protection
Abstract
This chapter outlines the monograph's overarching research objective, which is to demonstrate that, through being contextualised within the framework of Habermas' constitutional cosmopolitan approach and providing a prospective footing for the constitutionalisation and grounding of cosmopolitan ethical norms, the Responsibility to Protect (R2P) doctrine reflects a shift towards a more cosmopolitan approach to human protection in the post-Cold War period. The chapter explains the decision to undertake this research objective; outlines the three major contributions the monograph makes to the existing literature on R2P and contemporary forms of cosmopolitan theory; explains the decision to focus on human protection—a consequence of the doctrine's engagement with atrocity prevention and incorporation of the principles of distributive global justice—and provides a synopsis of each individual chapter in the book.