Published in: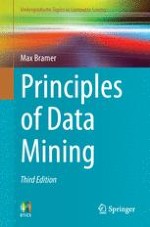 2016 | OriginalPaper | Chapter
1. Introduction to Data Mining
Abstract
This chapter gives a brief overview of the field of Data Mining. The topics covered are the data explosion, the knowledge discovery process, applications of data mining, labelled and unlabelled data, supervised learning: classification and numerical prediction, and unsupervised learning: association rules and clustering.