Published in: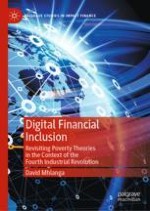 2022 | OriginalPaper | Chapter
1. Introduction to Digital Financial Inclusion: Revisiting Poverty Theories in the Context of the Fourth Industrial Revolution
Abstract
The convergence of financial services and digital technology has resulted in the formation of a significant new development paradigm to expand access to financial services. Despite the increasing adoption of technology in the financial services sector and the frequent discussions of access to money as a vital component of ongoing poverty alleviation, expanding access to the poor can frequently be a big challenge for financial institutions. This chapter's objective is to provide the reader with an overview of the book, including its broad context, its core ideas, the organization of the book's chapters, and other basic information about the book. The book "Digital Financial Inclusion: Revisiting Poverty Theories in the Context of The Fourth Industrial Revolution" is one of a kind because it comes up with a link to four main issues that are currently having a huge impact on the world. These issues are the Fourth Industrial Revolution Wave, which comes with opportunities and threats; poverty, which is one of the global challenges articulated in the sustainable development goal one; financial inclusion; and digital financial inclusion. In addition, this book questions the current academic discussions on financial inclusion and poverty reduction. What distinguishes this book from the existing discourse on these topics is the way it connects these ideas to the Fourth Industrial Revolution.