2019 | OriginalPaper | Chapter
1. Introduction to Reinforcement Learning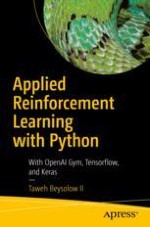 Author: Taweh Beysolow II
Publisher: Apress
Abstract
To those returning from my previous books,
Introduction to Deep Learning Using R
and
Applied Natural Learning Using Python
, it is a pleasure to have you as readers again. To those who are new, welcome! Over the past year, there have continued to be an increased proliferation and development of deep learning packages and techniques that revolutionize various industries. One of the most exciting portions of this field, without a doubt, is Reinforcement Learning (RL). This itself is often what underlies a lot of generalized AI applications, such as software that learns to play video games or play chess. The benefit to reinforcement learning is that the agent can familiarize itself with a large range of tasks assuming that the problems can be modeled to a framework containing actions, an environment, an agent(s). Assuming that, the range of problems can be from solving simple games, to more complex 3-d games, to teaching self-driving cars how to pick up and drop off passengers in a variety of different places as well as teaching a robotic arm how to grasp objects and place them on top of a kitchen counter.