Published in: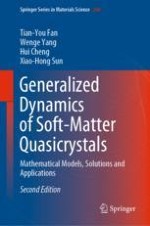 2022 | OriginalPaper | Chapter
1. Introduction to Soft Matter
Abstract
Soft-matter quasicrystals are observed in liquid crystals, colloids, polymers, and surfactants, etc., which brings new family members to soft matter with crystallographic forbidden symmetry. Soft matter is a type of common material, introduced by Gennes (Angw Chem 31:842–845, 1992) in 1991, including liquid crystals, colloids, polymers, foams, emulsions, surfactants, biomacromolecules, etc. They are neither ideal solid nor simple fluid, but presents characteristics of both solid and fluid, and belongs to an intermediate phase between isotropic fluid and ideal solid macroscopically.