Published in: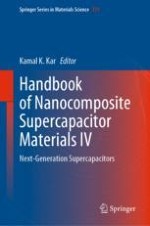 2023 | OriginalPaper | Chapter
1. Introduction to Supercapacitors
Abstract
Supercapacitors (SCs) are the essential module of uninterruptible power supplies, hybrid electric vehicles, laptops, video cameras, cellphones, wearable devices, etc. SCs are primarily categorized as electrical double-layer capacitors and pseudocapacitors according to their charge storage mechanism. Various nanostructured carbon, transition metal oxides, conducting polymers, MXenes, and metal–organic frameworks based on electroactive materials are extensively studied for practical application. Moreover, electroanalytical techniques such as cyclic voltammetry (CV), constant current charge–discharge (CCCD), and electrochemical impedance spectroscopy (EIS) are used to evaluate the performance parameters like operating potential window, specific/areal/volumetric capacitance, equivalent series resistance, time constant, energy density, and power density of the assembled device/cell. Furthermore, the contribution of different charge storage mechanisms like the capacitive and diffusion-limited processes is estimated via several electrochemical methods such as CV recorded at different scan rates to obtain the relationship between voltammetric current and scan rate, a voltammetric charge and scan rate, and step potential electrochemical spectroscopy. Additionally, the key performance metrics such as mass loading, capacitance, potential window, cycle stability, leakage current, dwelling time, equivalent series resistance, time constant, device configuration and energy, and power densities of SCs need to study carefully for practical application.